ABOUT + CONTACT
Emilly Giselle Prado is an award-winning multimedia journalist currently living in Portland, Oregon. A Chicana native of the San Francisco Bay Area, she has been writing and photographing since she was a child though studied education, social work, and library sciences after high school. Using an intersectional feminist framework, her work typically focuses on stories of marginalized communities in a wide range of topics including culture, music, social justice, and more. Her writing has appeared in nearly two dozen publications such as NPR, The Oregonian, Marie Claire, Bitch Media, the Portland Mercury, Feministing, Remezcla, and Travel Oregon amongst others. Her photographs have been published in Bitch Media, The Oregonian, Eater PDX, On She Goes, the Portland Mercury, and BESE.
Emilly received a 2016 Spectrum Scholarship through the American Library Association and in 2017, she was awarded a professional development grant from the Regional Arts & Culture Council to develop bilingual creative nonfiction works and poems during a residency in Michoacán, Mexico. In 2018, Emilly earned one of three fellowships for early-career journalists in Oregon offered in partnership with Oregon Humanities, the Andrew W. Mellon Foundation, and the Pulitzer Prizes. She is the author of Examining Assimilation, a forthcoming book in a five-part racial literacy series from Enslow Publishing in 2019 that retraces and investigates the concept of cultural assimilation, immigration, and the American identity. In her spare time, she makes zines, sells homemade buttons, and DJs under the moniker of DJ Mami Miami with Noche Libre, the Latinx DJ collective she co-founded in 2017.
For all inquiries, please email Emilly directly at emillygprado@gmail.com.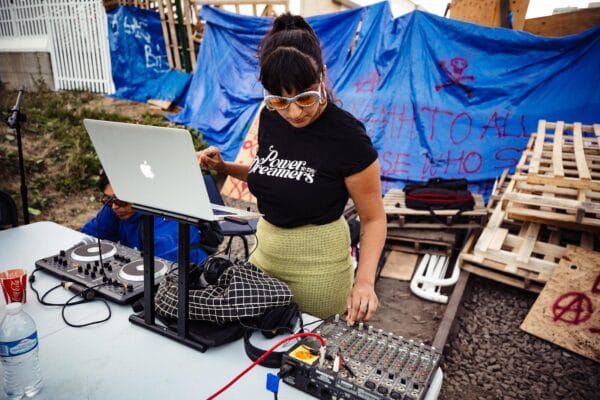 Photo by Tojo Andrianarivo
Facebook: @emillygprado
Twitter: @emillygprado
Instagram: @emillyp
Linkedin: @emillyprado
Full list of bylines: Artslandia, BESE*, Bitch Media*, Eater*, Feministing, Marie Claire, Ms. Magazine, NPR, On She Goes*, Oregon Humanities, the Oregonian*, Oxygen, Portland Mercury*, Portland Monthly, RACC, Remezcla, She Shreds, the Stranger, Street Roots*, Travel Oregon, Travel Portland, We are Mitu, Willamette Week*.
*Designates photos published as well