My Zines
WOMEN OF COLOR IN PUNK ROCK: AN ANTHOLOGY
In 2015 I was asked to contribute a zine to a riot grrrl burlesque benefit show for Planned Parenthood. When I set to focus on women of color, the realization that the movement was nearly exclusively for white middle class women sunk in. Instead of producing something I didn't identify with, I created Women of Color in Punk Rock: An Anthology of WOC Punk Pioneers from 1970-90s to chronicle the contributions of women of color in punk. The collection has expanded from seven to fourteen entries and ranges from individual musicians, zinesters, and photographers.
The first, second, and third editions have sold out. A fourth, more robust and decorative edition will be available for purchase or trade by Fall 2018.
CON LAS DOS MANOS / WITH BOTH HANDS
During the three weeks I spent as an artist-in-residence at the Guapamacátaro Center for Art & Ecology in Michoacan, Mexico in January 2017, I wrote over twenty essays and poems exploring identity, family history, and trauma. Using the land as inspiration for my work, I chose three sites as settings for three pieces. Entirely bilingual, two stories were written in Spanish first and then translated to English with the final poem written first in English then translated to Spanish. For each written section, a photograph and digital illustration was included as well.
Diez/Ten tells the story of retracing my father's homeland in search of answers for his pain and prolonged absences. Para las Marias/For the Marias uses rivers as a metaphor for the strength of my mother, grandmother, and great grandmother who are all named Maria. La Nopalito/El Nopalito honors the cactus as a symbol of masculinity, femininity, and resilience.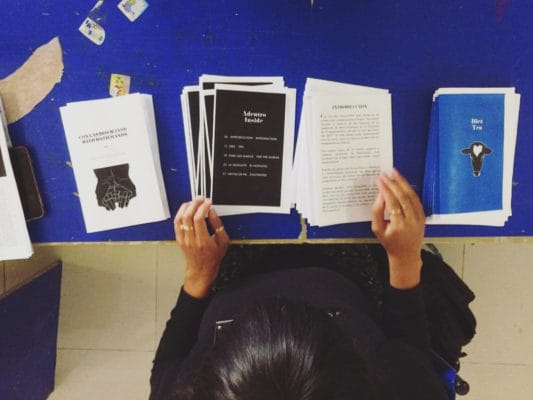 Interested in distributing any of my zines? Send me an email.